Malaysia has enforced 100 UN Regulations – RTD
Malaysia has enforced 100 United Nations Regulations (UNR), which are the stipulated international standards, in the country so far.
Road Transport Department (RTD) director-general Datuk Seri Ismail Ahmad said UNR were recognised by 51-nation members of the World Forum for Harmonization of Vehicle Regulations (WP29) to confirm the level of safety of vehicles, including lamps, tyres, brake system and the stability of chassis control.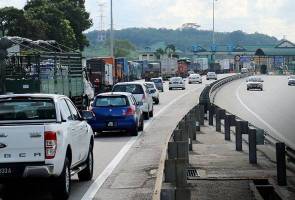 "Malaysia aims to put into effect 126 UNR by 2020," he told a media conference after opening the state-level 70th RTD Day celebrations here Tuesday.
He said Malaysia has been a member of WP29 since April 4, 2006 and RTD was recognised by the UN as an 'Approval Authority' since July 20, 2012.
He said WP29 instilled the concept of Mutual Recognition Arrangement which could do away with technical trade barriers to boost local vehicle safety and spur the economy.
"We hope the implementation of the UNR via the Vehicle Type Approval (VTA) process will reduce death toll due to accidents involving vehicles to three per cent annually by 2020 from the current six per cent," he said.
In another development, Ismail said the RTD had seized and taken action against 1,535 cloned vehicles nationwide from November 2014 to March 2016.
He said most cloned cars seized were from Singapore and were sold at around RM12,000 each compared to the market value of around RM100,000.
The public should not be duped into buying cloned cars and should refer to the authorities as they risked a RM5,000 fine or jail not less than one year and not exceeding five years or both, if convicted of the offence, he added.